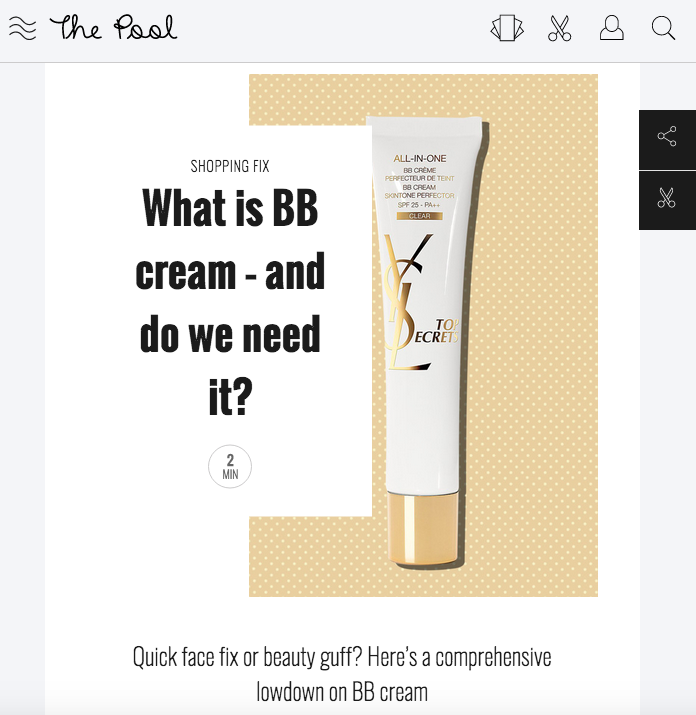 Quick face fix or beauty guff? Here's a comprehensive lowdown on BB cream
 By Frankie Graddon 
Last week, I was emailed the following by a fellow member of The Pool: "F, help. What on earth is BB cream? When should I use it? Over or under moisturiser etc. What's it all about?"
Hmm – a valid question, and one that requires an immediate answer. For, in a world of serums, moisturisers, toners and primers, do we really need another thing to put on our face?
Let's ask someone who knows. Enter make-up artist, cosmetic expert and owner of truly radiant skin Ruby Hammer. If anyone can help, it's Ruby. Good.
OK, SO, WHAT DOES BB ACTUALLY MEAN?
BB cream is short for Blemish Balm or Blemish Base.
AND WHERE DID IT COME FROM?
Originally, Germany, but it really only caught on in the Western beauty market after it gained popularity in the Far Eastern Asian market –especially Korea.
FINE. CHEERS, KOREA. BUT WHAT *IS* IT?
BB cream is meant to be used as an all-in-one product that replaces serum, moisturiser, primer and foundation. It should be moisturising, provide SPF protection and a sheer-to-mid coverage – like a tinted moisturiser, but with all the added time-saving benefits.
TIME-SAVING, EXCELLENT. WHEN DO WE PUT IT ON?
On clean skin, like a tinted moisturiser. Or, if you have dry skin, then put on moisturiser first, as sometimes the texture can be a bit matte. It's particularly good for oily or blemished skin, as it's not too heavy.
SOLD. DO WE NEED TO SPEND A FORTUNE ON IT?
No. BBs come in all price brackets, from more accessible to luxury. The most important thing is to shop around to get the best one for you in terms of colour and coverage.
Great. Thanks, Ruby. Always liked you.
So, there we have it – BB cream: a lovely make-life-easier product that cuts out faff in the morning. Lovely.
THREE OF THE BEST BB CREAMS
This stuff is amazing. Great on its own or underneath concealer for serious dark circles. It's also brilliant around your nose, especially useful if you have a cold.
Garnier Skin Perfector Daily All-in-One B.B Blemish Balm Cream, £9.99
This has come highly recommended by multiple sources – or, at this price, we wouldn't have included it. It evens skintone, is non-greasy and makes your face look a whole lot brighter.
Yves Saint Laurent All-In-One BB Creme SPF 25, £39.50
Like your skin, but better. Gives a good amount of coverage and makes your skin look glowy. It feels lovely and silky to put on, too. Worth every penny.