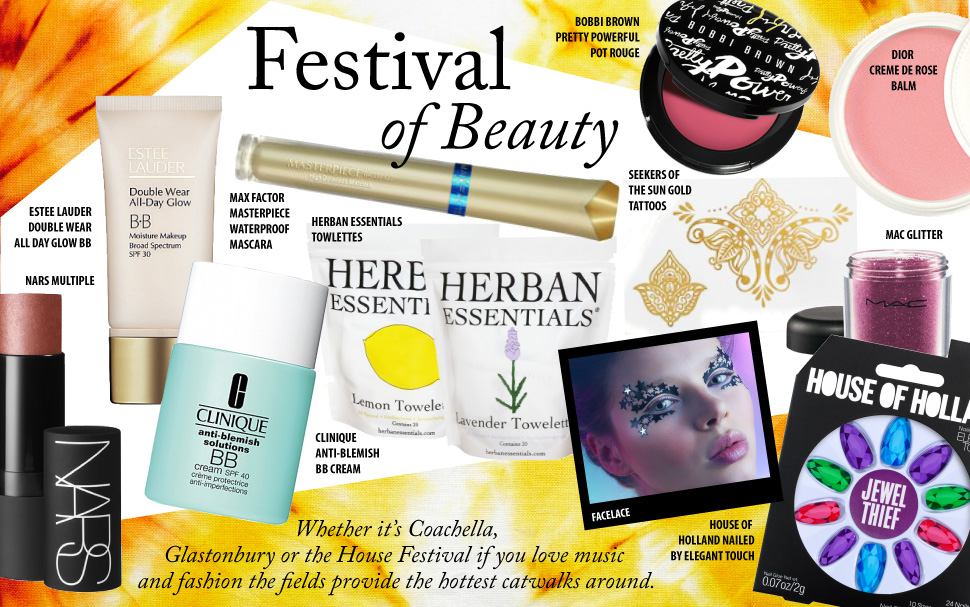 Whether it's Coachella, Glastonbury or the House Festival if you love music and fashion the fields provide the hottest catwalks around.
This time of year wipes come into their own, whether it's facial, antibacterial, deodorant or feminine hygiene. Festivals are one of the only times I advocate them purely based on their ease of use. My favourite are from HERBAN ESSENTIALS, they come in individual sachets making them perfect for popping in your bag without fear or products leaking or getting arm strain from the weight of numerous bottles. I love their beautiful natural scents from uplifting lemon to lavender for calming down at the end of the day.
Lip balm and waterproof mascara are must haves for the fields my favourites are MAX FACTOR MASTERPIECE WATERPROOF MASCARA in black and DIOR CRÈME DE ROSE lip balm. With a sweet rose fragrance the DIOR balm is hard to beat, it not only hydrates but also has SPF in to provide protection from the sun. If you need coverage on your skin then BB CREAMS are the perfect crossover between skincare and cosmetics, there are so many now on the market to suit all skin types and budgets.
When sorting your make-up the key is multipurpose products, the NARS MULTIPLE is perfect for providing a hint of shimmer creating a luminous glow as the sun beats down – use it on your eyes, cheeks, lips and body for all over radiance. BOBBI BROWN PRETTY POWERFUL II POT ROUGE is a gorgeous cream lip and cheek tint perfect for giving you a beautiful healthy next to no make up look.
When it comes to other items pick one thing that provides a WOW whether it's statement nails, a beautiful hair piece or a temporary gold tattoo it should be something that really pulls your outfits together without the need for constant reapplying. For inspiration why not try: